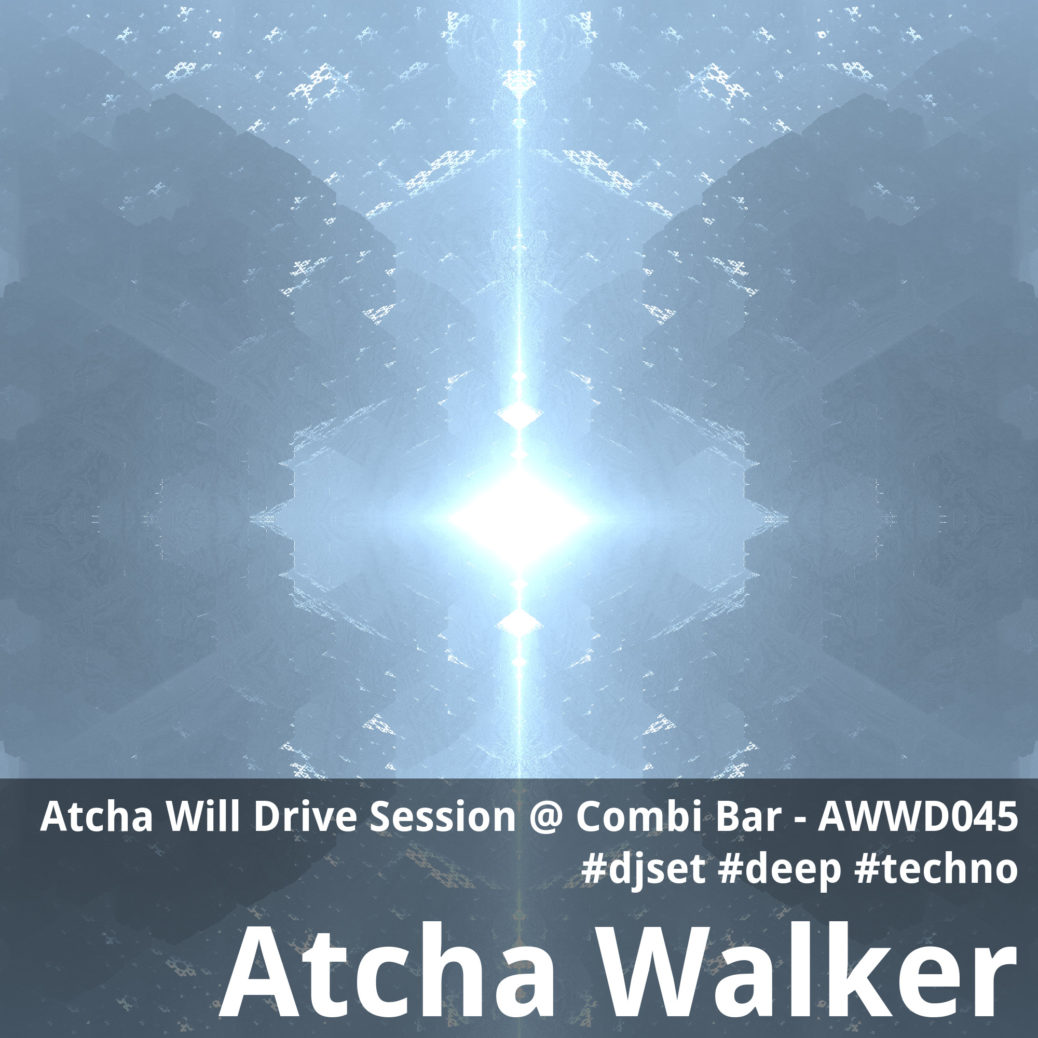 Atcha Will Drive Session @ Combi Bar – AWWD045 – djset – deep – techno
Atcha Will Drive Session @ Combi Bar – AWWD045 – djset – deep – techno
Podcast: Play in new window | Download
Subscribe: Google Podcasts | RSS
FR – Set complet enregistré au Combi Bar à Rennes lors de la session du 25/09/2019. Un voyage deep to techno de plus de 4h30 !
ENG – Complete DJset recorded at Combi Bar in Rennes, France, during the 09/25/2019 session. A deep to techno journey of more than 4 hours and half !
Want to discover more awesome tunes? Already 45 episodes to date presenting 574 different tracks and counting…Just subscribe to get your weekly fix of fine selected electronic music.
New show every Thursday
Don't forget to share the good vibes by smashing that like button!
Tracklist (Time – Title – Artist – Label):
00:00 – Blurred – Kiasmos – Erased Tapes Records
04:36 – Shanti Shanti – Boatman – All Day I Dream
09:04 – Face – Kasper Koman – Manual Music
14:34 – Abre – NU – URSL
20:04 – Follow Me Feat. Liz Cass (Dub Version) – John Monkman, Liz Cass – Get Physical Music
25:04 – Slowlight – Christian Löffler – Ki Records
27:24 – Denial (Extended Mix) – Reset Robot – We Are The Brave
31:01 – No Gravity – Gnork – MAGICWIRE
35:35 – Turkana – Who Else – Get Physical Music
40:30 – Jedi – HOSH, GROJ – fryhide
45:37 – Not Like That (Art Of Tones Crazy Dub) – Rhythm Plate – Restore Music
52:01 – Call the Shots (Motor City Drum Ensemble remix) – Art of Tones feat. Jaw – 20/20 Vision
59:13 – Do You Still Think Of Me? – Adam Port – Keinemusik ‎
01:04:56 – Rancho Relaxo – Anja Schneider, Sebo K – Global Underground
01:09:16 – Epika – Guy Mantzur, Roy Rosenfeld – Kompakt
01:15:23 – Sledi Toku – Brina Knauss – Rebellion
01:20:53 – We Out Here – Jimi Jules – Innervisions
01:26:26 – Abyssal Zone – Djedjotronic – VOID
01:31:07 – Replay – Emmanuel Top – novamute
01:34:16 – Waters – Earlham Mystics – Balance Music
01:41:10 – Teeth In The Rug (Cosmo Vitelli Edit) – Ettiem – I'm A Cliche
01:47:03 – Deformation – Deepbass – Informa Records
01:49:50 – Liking Your Disorder – James Teej – Last Night On Earth
01:54:46 – Acid Planet – Steve Parker – Balance Music
01:59:34 – Lately – Sterac – Klockworks
02:04:21 – Orbit – Manuel-M – Tronic
02:08:21 – Tourette (David Mayer Remix) – Terranova – Kompakt
02:14:37 – Man With The Red Face – Original Club Mix – Laurent Garnier – Toolroom
02:22:27 – Traveling Without Moving – Deepbass – Informa Records
02:26:27 – The Glue – Ticon – Iboga Denmark
02:32:15 – Lost In A Moment – Fabricio Pecanha, Who Else – ZEHN Records
02:36:05 – Hana – Fat Sushi – Mixmag Germany
02:39:51 – Millennia – Ian O'Donovan – Tronic
02:44:40 – Conjure Floyd – Maceo Plex – Drumcode
02:49:17 – Kaputt – Thomas Schumacher, Victor Ruiz – Electric Ballroom
02:54:28 – Pulso – Victor Ruiz – Drumcode
03:00:18 – Haradon – Dast (Italy) – Etruria Beat
03:05:10 – No World Order – Boxia – Drumcode
03:10:55 – Virton Upgraded – Steve Rachmad, Ignacio – Music Man Records
03:14:33 – Flashback (Christian Smith, Wehbba Re-Make) – Laurent Garnier – Tronic
03:20:30 – Break The Static (Michele Pinna Voice Remiix) – Skober – The Triangle Records
03:25:35 – Comets – Frank Maurel – Ovum Recordings
03:30:54 – The Overture – Marc Romboy – Tronic
03:37:50 – Silence – Charlotte De Witte – NovaMute
03:41:47 – Burning Up – George Makrakis – DSR Digital
03:45:30 – Mercury – SAM PAGANINI – JAM
03:49:19 – Let Yourself – Sian – Octopus Warehouse Series
03:52:17 – Paranoize – Alan Fitzpatrick – Drumcode
03:56:47 – Absolute – Roberto Capuano – Drumcode
04:00:55 – Consumed (Edit-Select Remix) – Gary Beck – Edit Select Records
04:04:22 – Kuda – Charlotte De Witte – NovaMute
04:08:35 – Villose – Jonathan Kaspar – These Eyes
04:14:05 – G.O.D. (Shur-i-kan Remix) – Lowpazz – Dark Energy Recordings
04:19:34 – Twiddles – atish – Manjumasi
04:25:48 – La Onda – The Mountain People – Global Underground
04:31:00 – Endless07 – Logan Dataspirit – dataspirit.org
04:34:40 – Come Go With Me – Jimmy Abney – Yoruba Records
Listen, download all episodes and tracklists, subscribe (Apple Podcasts, Google Podcasts, Spotify and more), just check the podcast page: https://atchawalker.com/awwd-podcast
Instagram: https://www.instagram.com/atchawalker
Facebook: https://www.facebook.com/atchawalker
#djset #deep #techno #combibar #rennes #france #bretagne #mix